Delivery – collection
gourmet burgers
The Original Burger House launched in May 2020 with the vision of providing Tavistock & Plymouth with a new taste of the West Country. Our vision is to offer an innovative and authentic Gourmet Burger menu using the finest, locally sourced ingredients in the South West.
We create beautifully constructed Gourmet Burgers that taste as good as they look, sumptuous sides that will leave you yearning for more and luxurious ice cream milkshakes for those who crave something sweet.
The Original Burger House was born in March 2020 when the UK National Lockdown created a new opportunity for The Original Pasty House to step into the evening food scene and provide Tavistock with something new to try. After months of trialling and testing different ingredients and combinations from across the South West, our idea became a reality when we launched our innovative menu in Tavistock in May 2020 and then Plymouth in August 2020.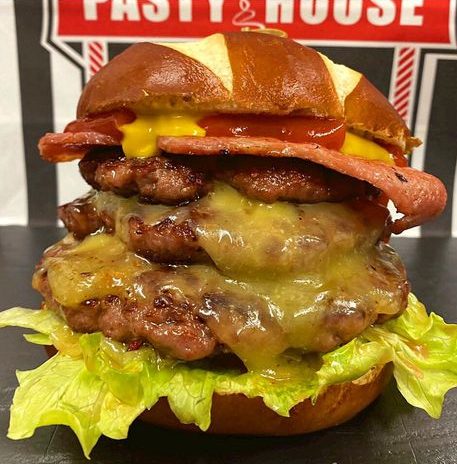 but wait….there's more
Fries, Wings & Shakes
Not only do we construct delicious Gourmet Beef Burgers and Fried Buttermilk Chicken using the best handmade beef patties and freshest chicken breasts, we now cater for plant-based diets with our tasty Vegan House Burger.
Constantly striving to improve our menu and listen to feedback from our loyal customers, we've added numerous new options to our menu including our crispy Sweet Potato Fries. Our Gourmet Burger range will continue to adapt and develop as we continuously try to add more contemporary and innovative items for our customers to indulge in.
Some of our recent hits include our lavish Loaded Fries. These perfectly crispy fries topped with lashings of cheese, bacon lardons and BBQ sauce are nothing like you've ever tasted before. Add our Buttermilk Chicken Bites to your feast, the perfect addition for when you're feeling extra peckish. And most recently, our BBQ Chicken Wings have proved to be a big hit. These sumptuous wings are covered with a delicious sweet BBQ glaze and cooked to perfection.